Our Tying Instructors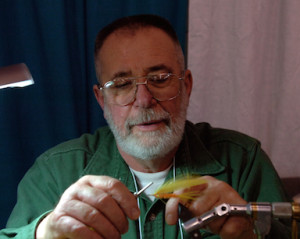 Armand Courchaine: Armand J. Courchaine born in Fall River, MA. Life long fly tyer, fly fisherman, photographer and instructor currently residing in Marlborough, Massachusetts. Life member of United Fly Tyers, Rhody Fly Rodders. Founder of Crossroads Anglers. At nine years old, while looking through the window of E.F. Cornell Sporting Goods Store, Armand was approached by the owner and asked if he had a job such as selling newspapers. The answer was no. Mr. Cornell then asked if he would like the opportunity to make money. Armand replied "Doing what?". The owner said "Tying flies?". Armand's replied "Do you hold them by the wings?". Thus was the beginning of Armand's career of tying flies commercially. In 1980 He wrote a column called "Fishing Time" for Somerset Spectator which was a weekly newspaper until 1996. He wrote articles for My Father's Canoe, New England Fisherman, and On the Water Magazine. A member of New England Outdoor Writers from 1980 to 2004. In 1997 Armand received the prestigious "Lifetime Achievement Award" by United Fly Tyers and Federation of Fly Fishers. Armand's Fly Patterns have appeared in Ken Bay's book Salt water Flies; Jack Gartside's Salt Water Patterns; Dick Surette's Fly Tyer; Ray Bondorew's Stripers and Streamers; Lefty Kreh' Salt Water Flies; Angelo Peluso's Saltwater Flies of the Northeast; Peter Nielsen's Rhody Fly Rodders, 50 Years. Armand shares his tying experience with monthly classes at United Fly Tyers, New England Fly Tyers, Crossroads Anglers and Rhody Fly Rodders. He is past president of United Fly Tyers, the oldest fly tying organization in America. Also Past president of Rhody Fly Rodders, the oldest saltwater fly fishing organization in America. In November 2013 Armand completed his first book entitled "Bugs over Bass", a book on tying bugs with deer body hair. He has tied for sixty years.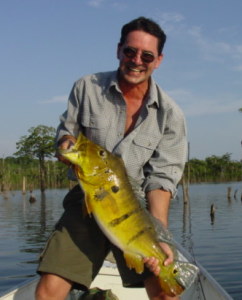 David Kolesar: David began tying flies for the trout in northeastern Pennsylvania as a kid and now ties flies for the trout and striped bass swimming the waters of New Hampshire. A member of the United Fly Tyers since the mid '90s David is now the current president of UFT as well as one of the club's tying instructors. He is also a member of the New England Saltwater Fly Rodders and the Catskill Fly Tyers Guild. David has been a demonstration fly tyer at the International Fly Tying Symposium, and The Fly Fishing Show for several years and for the International Federation of Fly Fishers festivals. An IFFF certified casting instructor and David teaches fly casting and fly fishing for L. L. Bean's Outdoor Discovery Schools and volunteers to teach fishing and fly tying for New Hampshire Fish and Game. David is a guide with the New Hampshire River Guides and guides freshwater anglers in New Hampshire.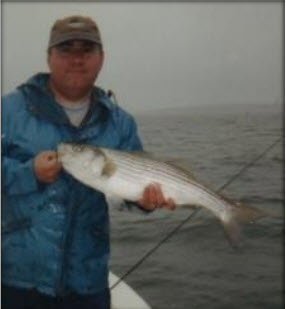 Joe Squicciarini: Joe has been fly fishing and fly tying since he was 11 years old. Growing up on Long Island, NY, he had the opportunity to fish the salt on his summer vacations and devote his weekends to fly fishing for trout. Coming from a family of fisherman, he spent many days with his father, mother, uncles, and cousins chasing trout. In his teens and through college, he sold flies to avid fly rodders from the hood of his car, later running a mail-order business from college. Joe has a bachelor's degree in Biology, a Masters in Biochemistry, and he has served as a researcher, and presently a research administrator for the past 31 years at a VA Medical Center. Joe has been saltwater fly fishing in the New England area for more than 25 years. Over the past 22 years, he has been a member of the New England Saltwater Fly Rodders. In that period, he has served as president, secretary, newsletter editor, and as a member of their executive board.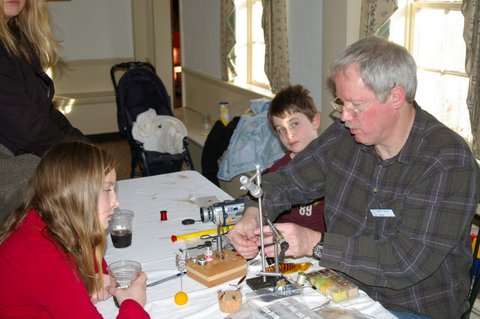 Mark Burns: Mark has been tying flies for over 20 years. He instructs beginners, adults as well as youths at the annual fly shows for both FFI and UFT. Mark grew up in the Catskills and enjoys stream trout fishing. He usually teaches beginners at the monthly meetings or will run an impromptu table for those wishing to tie something specific.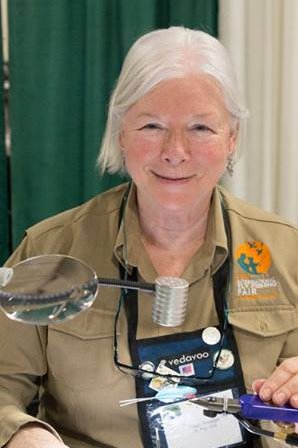 Peggy Brenner
Peggy has been tying for a decade and a half now and her specialty is flies that fish well in New England and the Florida Keys. She started with the basics, progressed to Classic Maine Streamers and now Salmon flies with a 1 year apprenticeship through the NH Council for the Arts; Traditional Arts Program. Peggy ties for a small group of customers, as well as giving instruction with a focus on Ladies and children's classes, presentations, and demonstrations around the country.